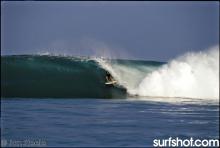 Not many surfers in Southern California get to claim an uncrowded semi-secret spot on a superb bit of coastline as their local spot. This is of course unless you live in So Cal's farthest northern reach. Andrew Bennet attributes his solid surfing to the region he has grown up surfing, between Goleta and Surf Beach, the most consistent coastline in California. Depending on the swell, Andrew's got spots like El Capitan, Naples, the Hollister Ranch and Tarantulas to choose from, which keep him on his toes in all sorts of waves under all sorts of conditions. His commitment paid off this year with some NSSA victories and, with Mike Lamm on the sidelines, Andrew will not be slowing down anytime soon. Expect to see plenty of the kid from down south up north.
Age: 19
Hometown: Goleta
Sponsors: Glas, OAM, Hoven, Sundance Beach, Xanadu
Favorite spot: Mentawai Islands
Influences: Bobby Martinez, Taylor Knox, Mick Fanning
Plans for '07/'08: Hawaii this winter, some WQS events
Thanks: I owe a lot to my parents, my girlfriend Katie McLean, Mike Lamm, and Adam Lambert who pushes my surfing.