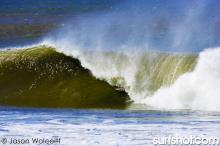 A few years ago, Dane Reynold's competitive drive was debatable; he seemed to favor the stress free Indo film trip to the complexities of WQS life. His ability was unquestionably there, but it remained to be seen what niche in surfing young Dane would carve for himself. And sure enough, after very few years on the qualifying battlefield, Dane is right where he should be -- on tour. His successes as a wild card in the past are an indication that he will be a force to be reckoned with next year. Even though Dane's career has taken him from budding phenom to free surf wizard to member of the Foster's ASP World Tour, his future will have many exciting moments. World titles may be won and rivalries may emerge, but we can be certain that an unprecedented level of surfing will be injected into the 'CT by the new California kid.
A-List BFF: Dane has always stayed close to his Ventura roots, surfing Dredge with the boys. He'll have to cruise around the lunch yard and find a new gang to pass the time with during those prolonged waiting periods. Could see Dane as the "friends with everyone, enemies with no one" type; free-surfs with Bobby, lunch with Slater, beer pong with Bruce. But I guarantee he'll be posting up in the parking lot with his hometown Ventura crew as soon as the final buzzer buzzes.
Big Corpo Connection: Quik.
Arch Rival: Everyone loves a rivalry. After the Fanning blow out at Lowers, there will be some hyping the next time they face each other. Jordy Smith and Dane's similarities have the media running rampant with compare and contrast scenarios. Will there be enough room for both of them? Hell yeah. But there will also be some mighty match-ups in the next decade between these two.
Greatest hits: Dane didn't win a WQS event in 2007 but had enough solid finishes to earn his spot on the World Tour. His video performances have shown the world what can be expected.
Master of This Domain: He may be the most explosive and unpredictable aerial surfer in the world and he can translate that into heats very well, as we saw at this year's Boost Mobile at Trestles. He'll have no problem winning heats at the smaller wave venues next year. We'll see how he works it in the heavier stuff.
Career Lowlight: Questionable competitive drive led us to believe he may save his surfing for the silver screen. Boy, were we wrong.
Bling Factor:  Dane is a subtle guy. For all we know those big checks are going to charity.
Red Carpet Moment: Break Through Performance by a Male and Video of the Year recipient at the 2006 Surfer Poll Awards.
Evidence of Aquatic Prowess: His qualification for the 'CT this year, his movie First Chapter, and all of the merited hype should make it evident.
California Roots: Ventura is home, so you'll find Dane anywhere from Oxnard to Rincon when he's in town.