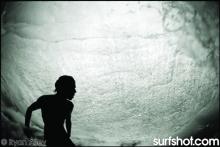 Over the past few years Brian Conley has been a man on a mission: To capture the best inside the barrel footage ever seen. And he's accomplished that mission time and time again. In 2006 he won Breakthrough Filmmaker at the Surfer Poll and Video Awards for My Eyes Won't Dry, a huge nod from the industry heavyweights, which validated his decision to step behind the lens. This year Conley came out with the sequel to his award winning film of a year ago. And though no nominations have been cast, one thing is for sure -- the barrel footage is unrivaled.
A-List BFF: Moby, both vegetarians, both kinda out there free thinkers, innovators in their fields, they'd click.
Big Corpo Connection: Sponsored by BF Goodrich and North County Ford.
Arch Rival: Cattle Ranchers, banditos, small crumbly waves.
Greatest Hits: My Eyes Won't Dry 1+2
Master of This Domain: Puerto Escondido, Teahupoo, and gaping barrels anywhere on the planet.
Career Lowlight: The day he cut off those long flowing dreads. Every article I've ever read on Conley referenced those things. Sadly, now they're gone.
Bling Factor: Two successful surf movies and a flourishing surf career, I'm betting Conley has plenty of bucks for nuts and berries.
Red Carpet Moment: 2006 Surfer Poll Breakthrough Filmmaker of the Year for My Eyes Won't Dry
Evidence of Aquatic Prowess: Just watch My Eyes Won't Dry 1+2.
California Roots: Born in Long Beach, moved to San Diego when he was young, and then the family moved to Solana Beach to be closer to the ocean.