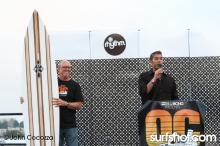 TEXT PROVIDED BY BILLABONG -


This years' 2010 Billabong Art of Shaping Orange County Edition Exhibit held August 13th and 14th at ASR and Sacred Craft in San Diego along with the Shapers' Reception and Live Auction was a resounding success raising $44,600 dollars to be donated to the SIMA Humanitarian Fund.

The surfboard that brought in the highest single charitable donation was the unique and innovative "Nightstalker" shaped by Bill Stewart and made famous on NBC Nightly News and the Vimeo clip that was all over the internet prior to the event. Billy's board went for $5,250 which made Bill Stewart the recipient of the check from Billabong USA for $2,000.00 for his efforts in producing the highest single donation amount to charity.

Of course the interesting and unique "Wild Thing Superlove" by Peter Schroff with its 8 fins, 8 wing fantasy outline and bottom was a contender from the start and gleaned a $4,700 donation to help fight cancer, cystic fibrosis, spinal cord injuries and other diseases we all are faced with on a daily basis.

One of the highlights of the night was the Stussy S-Double collection that was so generously donated by Shawn Stussy. Shawn and Paula were enjoying the event so much that at the last minute they decided to let us auction off all three of his boards as opposed to letting the highest bidder just pick one. When the bidding topped out at $2,900 for pick of the litter the buyer was given the choice of taking one or all three at $2,900 each. After what seemed like 20 minutes of deliberation he chose to take S-Double #1, which freed up the other two for separate bidders. The second board matched the $2,900 bid of the first and the third board brought in $2,700, so the Stussy S-Double collection raised a total of $8,500 for our cause!

Rich Harbour from Harbour Surfboards created a cross between his infamous Trestle Special and a Rapier models, using a blank with 5 stringers to commemorate his 50th Anniversary and earned a full page color ad in either SURFER or SURFING magazine produced for him by the Billabong Art Department.

Jeff "Doc" Lausch from Surf Prescriptions Surfboards created the Silver Bullet with the fin shaped into the foam of the board and an RX vision window for sea life and aerial viewing that earned him a full page color ad in the board builders' issue of SURFING magazine produced for him by the Billabong Art Department and an order for eight new surfboards from SURFSIDE SPORTS in Costa Mesa.

Ed Sakal from Sakal Surfboards built a gun from scratch, including gluing up a blank with 15 stringers, shaping the board and every step of the glassing process earning him a full page color ad in the SURFER magazine produced for him by the Billabong Art Department and an order for eight new surfboards from HANSEN'S in Encinitas.

Finally, the "Retailers Choice" award went to Matt Biolos of …Lost surfboards for his epic "Frankenstein's Monster"; Matt is the recipient of an order for 8 surfboards from Hanger 94 in San Diego. Billabong and the Art of Shaping also want to congratulate Matt Biolos for winning the Sacred Craft Simon Anderson Shape off Award and a check for $1,000; which Matt quickly donated to charity.

This years' event also featured incredible boards from talented shapers Robert August, Steve Boehne, Bob "The Greek" Bolen, Lance Collins, Roger Hinds, Bob Hurley, Bruce Jones, Terry Martin, Mickey Munoz, Timmy Patterson, Terry Senate, Cole Simler, Tim Stamps, Jeff Timpone and Barry Vandermeulen.