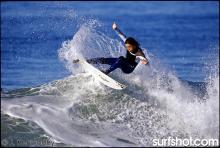 It seems like San Clemente has always been a hotbed for producing future superstars with buckets of talent, and Riley Metcalf is following in that mold. Judging by his idols and his three-year tenure as a member of the USA Surf Team ('05, '06, '07), the kid knows what good surfing is. A standard day includes riding his bike to Lowers, surfing for a few hours, stopping by Carl's Jr. on the way back, playing some ping pong, then down to T Street after blackball ends for a sunset surf. But Metcalf sees the big picture -- to keep surfing for as long as he can and have as much fun as possible. It sounds like a positive approach and makes him a strong candidate to be another one of San Clemente's future superstars.
Birth date: 4/3/92
Height: 5'4"
Weight: 127 lbs.
Stance: Regular
Board: 5'7" Mayhem
Hometown: San Clemente, CA
School: San Clemente High School
Local Spot: Lowers
Local Crew: Kolohe "Brother" Andino, Tanner Rozunko, Luke Davis, and brother Chase Metcalf
Influences: Joel Parkinson and Matt Archbold
Results: Surfing America Boys National Champion in '05 and '06
Goals: Hopefully winning the Overall NSSA Open Southwest Region, winning Nationals and taking as many trips as I can.
Sponsors: Lost Clothing, Nike 6.0, Lost Surfboards, Electric, Killer Dana Surf Shop