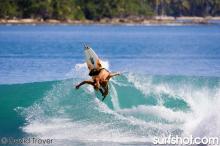 A lot of kids today have dreams of becoming successful professional surfers, but only a select few realize that hard work is the key to attaining these dreams. Ricky Whitlock is on a serious training program, working with both a physical trainer and surf coach, in order to make sure he is always at the top of his game. Whitlock focuses on "mixing it up, with airs and carves, in order to always keep everybody guessing." He has his sights set on doing well competitively. As we talked for this interview he was preparing to leave the next morning for two months in Europe, taking his focused approach on the road. The kid is determined, and with his results this year -- making it through five rounds to the Round of 32 at two of the highest-profile contest venues, Pipeline and Lowers -- taking things seriously seems to be the ticket toward fulfilling his dreams.
Birth date: 10/2/86
Height: 5'10"
Weight: 160 lbs.
Stance: Goofy
Board: 6'1" x 18 ¼" x 2 ¼" Steve Boysen
Hometown: Carlsbad
School: Formerly Carlsbad High School, now Home School
Local Spot: Ponto and State Beach
Influences: Taj Burrow, Rob Machado, Taylor Knox, and Che Stang
Results: Rd of 32 at '07 Monster Energy Pipeline Pro, Rd of 32 at '07 Jeep Body Glove Surfbout
Goals: Get as much exposure as I can, while building my seed on the WQS, then hopefully qualify [for the WCT].
Sponsors: Matix, Adio, Nixon, Electric, SB Surfboards, Bully's, Sector 9, Sun Diego, Resurrect Energy Drinks