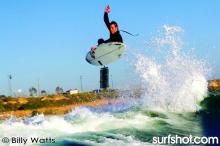 While most young surfers are focused on competing and qualifying for the WCT, it is a refreshing change of pace to see someone stoked to go out and explore the unknown, traveling off the beaten path and forging their own trail. Pat Millin is the adventurous type, ready to see what lies beyond that last mountain range and around the farthest corner, hoping that whatever's there might even have some good surf. Millin's surfing is a well-rounded blend of power and innovation. His priority is to keep planning more trips for the future. His recent travels are not to the standard tropical destinations you see highlighted so often in the magazines, but instead to chillier climates with quality waves. Millin claims he was the first person to ever surf in the Faeroe Islands, and he's also gone on surf expeditions to Norway, the Lofoten Islands, and most recently to the East Coast of Canada. "You have got to have fun with it because that is what it is all about," Millin said. Seems like Millin might just stay on the road less traveled – after all, it's what's put a smile on his face thus far.
Birth date: 2/1/87
Height: 5'10"
Weight: 165 lbs.
Stance: Goofy
Board: 6'1" x 18 ¼" x 2 ¼" Sharp Eye
Hometown: Solana Beach
School: Torrey Pines High School
Local Spot: Seaside
Hometown Crew: My brother mike and the Seaside crew
Influences: Andy Irons, Bruce Irons, and Zach Keenan
Results: Competed on the Macbeth team that won the '06 Switchfoot Bro-Am at D Street in Encinitas
Goals: Taking as many photo trips as possible, constantly improving, and doing some more contests down the line.
Sponsors: Zoo York, I Path Shoes, DaKine, UNIV, Sharp Eye, Matuse