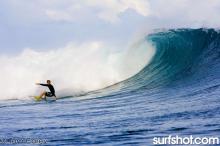 Growing up in the wave-rich coastline of Santa Barbara County has definitely helped Killian Garland. With some of the best reef and beach breaks within his reach, along with one of the best point breaks on the coast, KillGar has had no shortage of quality waves in which to groom his surfing skills. From Rincon to Central Cal secret spots, he may have put in a lot of driving time to be on it, but that time is paying off big. He is set on traveling for photo trips, doing the WQS in order to keep building his rating, and hopefully will qualify for the WCT someday soon. Garland wants to continue to strengthen his foundation by continually pushing his free surfing to new levels. The limits of his freakish level of talent constantly expanding, don't be surprised to see Garland take his Santa Barbara act global.
Birth date: 1/22/87
Height: 6'3"
Weight: 160 lbs.
Stance: Regular
Board: 6'2" x 18 3/8" x 2 ¼" J7
Hometown: Santa Barbara County
School: Home School
Local Spot: Rincon
Local Crew: Tarik Kashoggi and Jake Kirshenbaum
Influences: Bobby Martinez, Taj Burrow, and Mick Fanning
Results: Champion of the '06 Jeep/Oakley Pro Junior at the Newport Classic, champion of the '06 Volcom World Championships Pro-Am division in Newport Beach
Goals: Taking it as far as I can, [hoping to] finish on top.
Sponsors: Volcom, Adio, Spy, Freestyle, Famous, Sector 9, One Way Boardshop, J7 Surfboards