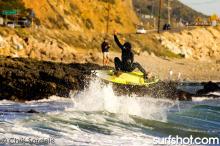 You will not find 17-year-old Dillon Perillo longboarding First Point Malibu, nor will you see him raging on the Sunset strip. Growing up on the Malibu coast, things can go either way for a young surfer but Perillo has kept his head and board going in the right direction. He splits his time between the Bu and Oxnard so he gets a good variety of high quality waves throughout the year. His hard work paid off with a 3rd place finish in Explorer Mens at Nationals earlier this summer. Dillon has another year at Malibu High but says that after that, "I want to try the WQS and travel as much as I can."
Birth date: 5/13/90
Height: 5'10"
Weight: 155 lbs.
Stance: Regular
Board: 5'11 ½" Roberts Surfboards Influences: Anybody who's good at anything cool.
Hometown: Malibu
School: Malibu High
Local Spot: I live in Malibu and Oxnard so I surf Zuma and Point Dume in the summer, then I go to Oxnard in the winter and surf all those waves there.
Local Crew: I mostly surf with my friends from Malibu like Sam, Leo, Sean, and Max. I also surf up in Oxnard with Noah and Sage Erickson and Nick Rozsa.
Results: 3rd at '07 NSSA Nationals in Explorer Mens division
Goals: I plan on surfing, having fun and going to school for now but after high school I want to try the WQS and travel as much as I can.
Sponsors: Hurley, Roberts, Smith, DC, DaKine, Sex Wax, Ladera, IGBS