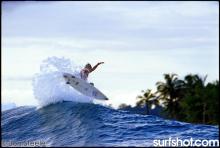 Conner Coffin is Santa Barbara inside and out. On his list of favorite surfers are Tom Curren and Bobby Martinez. His local spot is Rincon. He rides for Channel Islands and he is a smooth surfing, young regular footer with huge aspirations. Conner is only 14 but has already racked up a national title and a conference series win, not to mention a list of big time sponsors. His ultimate goal is to qualify for the WCT. With the widespread SB support Conner has, a few more years in California's high quality wave zone, and some travel time, this goal will be very attainable.
Birth date: 7/13/93
Height: 5'6"
Weight: 140 lbs.
Stance: Regular
Board: Channel Islands 5'10" x 17 7/8" x 2 1/16" mbm+ Influences: Tom Curren, Slater, Bobby Martinez, and my parents.
Hometown: Santa Barbara
School: Carpenteria Home Base
Local Spot: Rincon
Local Crew: My bro Parker, Kokoro Tomatsuri and Toma, Brian Aresco and the CI guys, Ryan Perry, Dave Letinsky, and Jack and Dustin
Results: Gold Coast Explorer Boys conference champion, '06 Open Boys national champion
Goals: Have fun surfing. Travel to some cool places. Do the 'QS and qualify for the WCT.
Sponsors: Hurley, Globe, Sex Wax, Hoven, Channel Islands Surfboards, Dakine, A-Frame surf shop, future