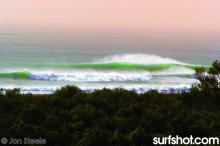 The Save Trestles team alone defies the greasy old stereotype about lazy, water-logged surfers whose idea of community service is taking a shower every now and then. Once upon a time, a wicked government agency called the Transportation Corridor Agency (TCA) proposed building a 16-mile toll road right through San Mateo Creek. Why? Why, to destroy a rare, untouched coastal watershed, disrupt a delicate wildlife habitat sheltering endangered species and threaten the much-loved surf breaks at Trestles, of course. But our heroes, the Save Trestles team, sprang into action with a concerted series of double-whammy attacks: nontraditional resistance efforts such as virtual YouTube hearings coupled with lots and lots of paperwork. Everybody hates paperwork, even TCA.
A-List BFF: Eddie Vedder and Pearl Jam continue to donate concert proceeds to the Save Trestles campaign.
Arch Rival: TCA and anybody else willing to trade world-class waves and wildlife preserves for a big, noisy street.
Greatest Hits: Promoting the Coastal Commission "Virtual Hearing" in a brilliant series of mini-interviews on YouTube (http:/www.youtube.com/group/savesanonofre), pointed interviews on Fox News, sympathetic ink in the New York Times and Los Angeles Times.
Master of This Domain: Activism and resistance.
Red Carpet Moment: Publication of damaging 236-page Coastal Commission report describing effects of a toll road on wildlife, natural surroundings and human experiences with the area. TCA has asked for more time to combat the report's findings. A wussy move? You decide.
California Roots: San Clemente-based advocate for preserving Southern California's surf breaks and ecosystems, bringing together a diverse group of activists ranging from veterans like Surfrider and California State Parks to grassroots organizations and individual surfers.