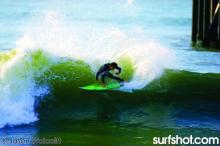 Every amateur in America dreams of putting an exclamation point on their amateur career by winning Nationals their final year, and this time around Arrambide had the good fortune to do just that. In addition to his win at Nationals, he also finished third in the ASP North America Pro Junior ratings, and nabbed his first Pro Junior win in New Jersey. Arrambide's Pro Junior ranking qualifies him for the upcoming Billabong ASP World Junior Championships scheduled to run in Oz in January. In '06 and '07 at the Quiksilver ISA World Junior Surfing Championships, as a member of the U.S. Surf Team, Arrambide proved that he can more than hold his own in a stacked international field. In '06 he finished fifth, but out of medal consideration, behind the likes of Julian Wilson, Jordy Smith, and Jeremy Flores. At this year's championships in Portugal, Arrambide surfed brilliantly and seemed one of the favorites to make a run at the gold. He faltered in his last heat and finished a disappointing fourth. The thing about Cory is that it isn't his intense drive to win that makes him special, it's more that he hates to lose. He's a natural born competitor, a rare commodity in surfing. Over the next few years watch for Cory to attack the WQS with his competitive savvy and razor sharp backhand.
A-list BFF: Bobby Martinez, both Bobby and Cory have a strong backside attack, and if Cory keeps his competitive success rolling he could be joining Bobby on the 'CT in the next few years.
Arch Rival: Pretty soon it's going to be every other guy on the WQS.
Great Hits: With a searing backhand bred at right points like Rincon, there are plenty of great backside hits to come.
Career Lowlight: Having to come back from a torn meniscus in his right knee
Bling Factor: Cory just won Explorer Men's at Nationals, dollar signs abound in the very near future.
Red Carpet Moment: Winning the Explorer Men's division and placing second in the Open Mens division at the 2007 Nationals.
Evidence of Aquatic Prowess The kid's resume speaks for itself... but if you need more proof, find a kid who's lost to him in a heat. They'll probably vouch for him on this one.
California Roots: Part of an extremely talented Ventura crew.