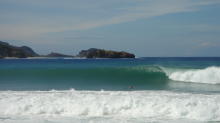 Surf Camp Philippines is located in the province of La Union, on the main island (Luzon) of the Philippines, about 250 km north of Manila (the capital of the Philippines). With 7107 islands, and a coastline twice the length of the coast of USA, the Philippines can claim to be Asia's Beach Capital where you can enjoy the warm crystal blue waters of both the China Sea and the Pacific Ocean. Tourists come here to enjoy the long, sugary white sand beaches and pleasant waters, blessed with a variety of marine life. As an addition to this, the Philippines is also to be considered as a true surfing paradise.
La Union is the prime surfing area in the Philippines and offers great surfing both for beginners and experienced surfers. There are lots of beaches and points all waiting to be explored and surfed in un-crowded and much mellow conditions. Experienced surfers will get the chance to try out lots of different challenging waves, including several perfectly shaped right hand reef point breaks. Beginners will especially enjoy the consistent San Juan beach break, which offers good clean lefts and rights, a great fun wave! The most amazing thing about the area is the constant supply of windless glassy mornings and spectacular evening sunsets, a real pleasure while you wait for the swell to arrive.
The most consistent time of the year starts around August and goes through to December. This is the coldest months (22° to 28°C ) and the time of the north swell that provides mainly right handers to the region. April and May are the summer months with temperatures getting warmer (25° to 32°C ) and the swell easing. The wet season starts to kick in about the end of May easing the high temperatures back down and producing swells from the south, a bonus for goofy footers with the left-handers coming into play!
Peak Season Time
: August – December
Location:
La Union, Philippines
Contact Info
: Liquid Body Surf Camp
Destination
: La Union, Philippines
Url
:
www.liquid-body.com
Email
:
liquidbody@gmail.com
Phone
: +6 3 (916) 487-5763